20 October, 2014
Acrylic Cosmetic Displays: 6 Creative Ideas for Increasing Sales
Have you ever walked into a cosmetic store or aisle and been overwhelmed by all the colors, smells, and products lining the shelves and walls? You're not alone. Many people on the hunt for a preferred cosmetic brand are inundated with products they must sort through on their quest to find their favorite shade of lipstick or makeup palette, and it can make the search difficult.
As a shop owner, it's in your best interest to organize your products effectively, making sure that your customers not only find the product they're searching for, but that their eyes are drawn to other items along the way. Acrylic cosmetic displays are great for showcasing your makeup products prominently and enticingly. Plastic makeup displays help customers find the product they need, as well as encouraging them to add other items to their purchase. Here are 6 ways you can use acrylic cosmetic displays in your store to increase sales of your makeup products.
1. Use Acrylic Makeup Displays That Showcase Color
While you don't want to overwhelm your customers with color, you do want to draw their eyes towards displays that have products arranged enticingly. Acrylic cosmetic displays are perfect for attracting attention using color, as their transparency allows color to be seen from all angles.
 2. Display Makeup Palette Cases Open and Closed
People love makeup palettes. The color scheme has already been figured out and arranged neatly and compactly, making palettes perfect for travel, gifts, and more. Many cosmetic brands will carefully design attractive and creative casing for their makeup palette, so it's not uncommon that a buyer will purchase a palette simply because they love the packaging. When you stock your acrylic cosmetic displays, showcase the inside and outside of palettes to make the most of the display.
 3. Encourage Consumers to Touch With Plastic Displays
Getting a customer to notice a product is good, but getting them to pick it up and examine it in more detail is even better! A buyer that is handling merchandise is more likely to follow through and purchase that item. Make it easy for your cosmetic store shoppers to pick up and look closely at your products, as the plastic makeup display below does, with the makeup tubes tilted in just the right way to encourage a buyer to pick it up. This is also good for getting consumers to touch the right test product, instead of having them open up an item you are planning to sell.
  4. Organize Products And Promote Your Brand Simultaneously
Like the acrylic cosmetic display to the left does (YSL make up), try to kill two birds with one stone by displaying your product and promoting your brand at the same time. Passers-by will find their eyes drawn to such a creative display and they will know exactly what is being offered. Such a strong showcase of both the brand and product will go a long way towards encouraging shoppers to come in and make a purchase when they might have otherwise just walked on by.
 5. Use Complementary Colors When Arranging Makeup
Remember, it can be overwhelming to walk into a cosmetic store and find yourself face to face with an explosion of colors, powders, lotions, name brands, and much, much more! To help your customers find what they need (and suggest they buy more than just "needs" but "wants" as well) display makeup, where possible, by corresponding colors. An unflattering collision of nail polish colors arranged on a shelf will make it much harder for a shopper to find an attractive shade polish. Another reason for corresponding colors is that many people have a preference for certain colors or shades when shopping for makeup. If a consumer find all the colors they tend to prefer grouped together, they're much more likely to purchase more than just one item.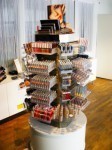 6. Make Products Easy For Shoppers to Reach
It's not a surprise – people like to be able to reach the products their after without jumping through hoops. Shoppers tend to appreciate (and purchase!) products that are within easy reach, allowing them to browse and gather items without having to reach high, ask for help, or generally just expend too much energy. Make it as easy as possible for your customers to load up their arms with purchases by placing your most popular products on an acrylic cosmetic display turntable. Place these convenient displays near the checkout counters (so shoppers will continue to add items to their purchase as they wait in line) or any other high traffic areas throughout your store.
Contact us for help with custom solutions to best display your product!
The professionals at Akriform would love to consult with you as to how to best display your products, whether you are displaying makeup or cosmetics, or something completely unrelated. Visit our custom photo gallery for a variety of cosmetic displays and other plastic displays we have created for countless customers. It's a proven phenomenon in retail that an attractive display increases sales. Learn more about our in-house production for custom products and contact us today!