9 January, 2017
Akriform at ISM Cologne, 29.01.2017 – 01.02.2017
ISM Cologne – The world's largest trade fair for sweets and snacks
Akriform will be exhibiting at ISM Cologne 2017, the largest trade fair for sweets and snacks. Preparations  are in motion and Akriform will be exhibiting together with Candy People AB in the Swedish pavilion (in collaboration with Try Swedish).
This year we will introduce a merchandising solution combining modern technology with tasteful wooden display stands made in Sweden, highlighting the bulk products with LED lighting on every shelf. This is the latest trend in bulk merchandising.
Come and meet us at Hall 4.2 Stand D5-F9.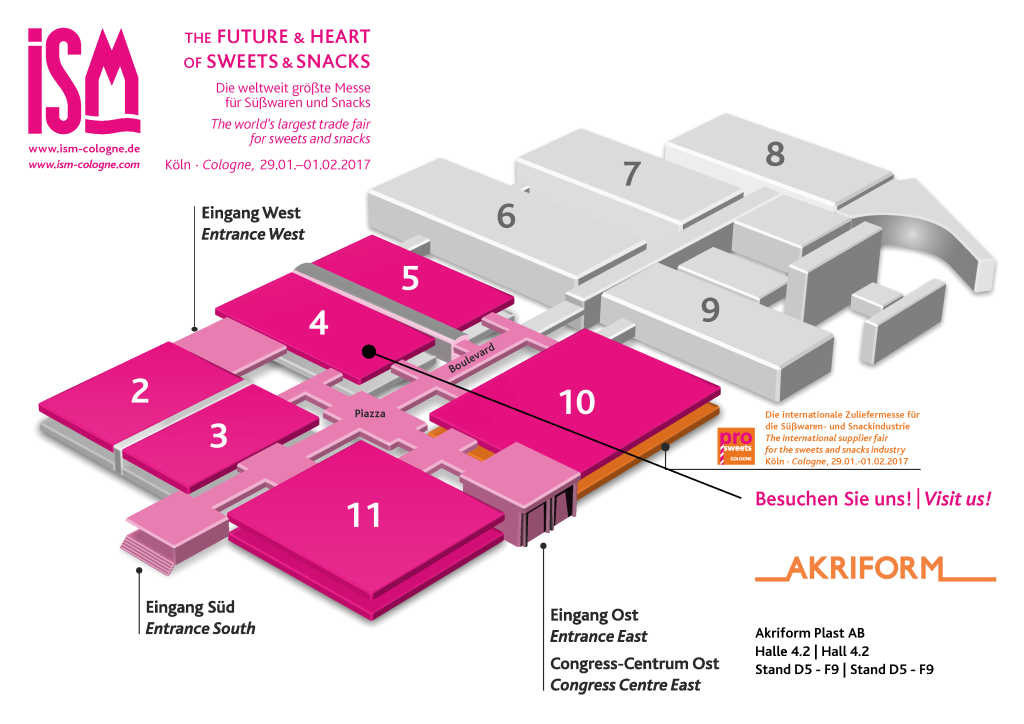 About ISM Cologne 2017
Venue: Cologne Exhibition Centre
Deutz – Messeplatz 1, 50679 Cologne , Germany
Date of event:
29.01.2017 – 01.02.2017
Opening times:
For visitors: 09.00 a.m. – 06.00 p.m.
For exhibitors: 07.30 a.m. – 07.00 p.m.
Event program:
Cologne Coffee Forum: Visitors can take part at Espresso seminars and different exhibitors will show the broad range of coffee.
Goodfoodhalal® Supermarket: Premiere at ISM 2017: Globally-operating dealers and manufacturers of Halal sweets and snacks will be presenting their products at the central location on the Boulevard of the ISM.
ISM Stage: A special program will be offered on Sunday at the ISM stage with presentations concerning topics how to achieve the "Millennial" consumers, the generation aged between 15 and 35 years, or which opportunities and challenges the digitization means for the retail trade.
Innova Market Insights: Presents Sweet Trends at ISM 2016, highlighting key trends in confectionery & snacks.
ISM Award:Was presented for the first time at the ISM 2014 and pays tribute to exceptional services to the confectionery and snack item industry.For admission fees and more details about the fair, please visit the official facts & figures page at the ISM webbsite.
ISM Expert Stage: A special program will be offered on Sunday at the ISM Expert Stage with presentations concerning topics about consumer trends and types and about the opportunities and challenges which the digitization means for the retail trade.
Newcomer Area: The ISM Newcomer Area is a special location, where visitors can see the "Newcomers" – in other words, new industry participants or those which are just new at ISM.
New Product Showcase: Again in 2016 guests can discover interesting new products in the confectionery industry at the "New Product Showcase". Find out more about innovations in the confectionery and snacks industry.
Special Show "Sweet Tradition": In line with the motto "Sweet Tradition", a group of international design students at the Cologne International School of Design (KISD) design a broad range of new product concepts and product packaging.
ISM Facts & Figures