9 September, 2015
Do you have everything you need for the autumn and winter promotions?
Summer is over and autumn is here, before you know its even winter. One of the best things about the changing seasons is the stores changing looks. Whether it is a fashion- or interior boutique or a supermarket there is a lot happening during the autumn and winter months, both in stores and in shop windows.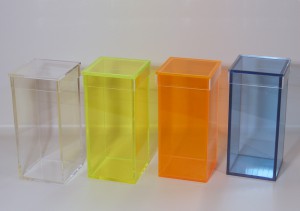 The summer products on sale need enticing signage and product displays and the new products have to be displayed in a good way to attract interest. Do you have everything you need for the upcoming promotions this fall and winter? Maybe you should put up a pop-up store and need help to develop a good looking interior design? Akriform can help you with designing and manufacturing displays, product stands, shelves and podiums in plastic. We work mainly with acrylic (Plexiglas) and PET. These materials are available in endless colors and we can mold them to virtually anything you want (for more information about plastic and our process please read our previous post). We can also print on all kind of plastic materials, such as a picture or why not your logo?
All our manufacturing is done in our own factory in Sollentuna, between Stockholm and Arlanda Airport. With design team and production team under the same roof we are efficient and can offer shorter delivery times. We also do 3D renderings where you can see what the end result will look like before we begin manufacturing. When making larger series we usually make a sample that you can touch and feel before production begins. Akriform always strive to deliver the absolute best product to every customer, both in terms of quality, design and sustainability – we believe in the possibilities of plastic!
Do you use a concept- or advertising agency and already have a finished design? No problem, we also manufacture from finished sketches and drawings.