24 September, 2019
Plastic Processing at Akriform
PLASTIC PROCESSING
Akriform is one of Sweden's largest manufacturers of tailor-made plastic products. We work with plastic processing in many different forms. In our factory in Sollentuna outside Stockholm, we manufacture product displays, make-up displays, industrial protective covers and a lot of other unique custom made products in plastic.
We mainly work with acrylic (plexiglass), PET-G, polycarbonate, foamed PVC and styrene, but also many other plastic materials. Many of the products we manufacture also include other materials such as wood, sheet metal and wire etc.
Acriform can help you all the way, from design and construction to manufacturing and distribution. We have everything under the same roof in our new factory of about 6000 sqm. We are a one-stop-shop and have the capacity to make everything from one copy up to thousands.
LASER CUTTING & MILLING
The factory in Sollentuna has two modern laser machines and three CNC cutters. Akriform's machine operators work in close collaboration with both the sales team and the designers, which means that we can deliver top quality in a short time.
BENDING
Bending is one of the cornerstones of plastic processing. The vast majority of products are bent at some point in the process towards finished product. Akriform has a department with several bending machines and is fully equipped to produce large series of different types of plastic products. We can bend everything from thin materials up to 25 mm.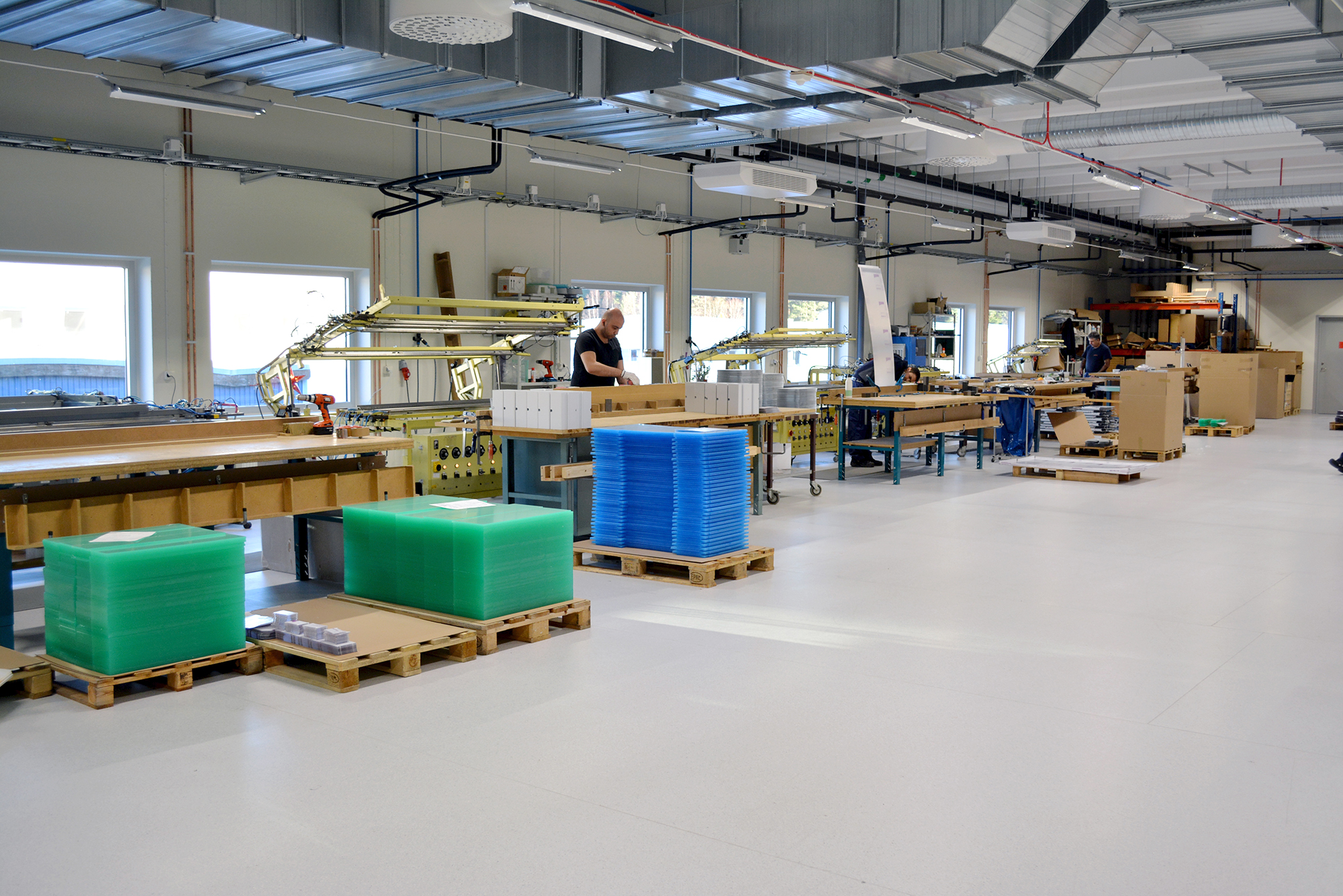 thermoforming
In order to produce soft, large curves in the plastic, we have large furnaces in our thermoforming department where the plastic is heated to be reshaped. Our production team produce molds and templates in the factory and then ensure that the plastic gets the right shape for each product, which is often quite unique.
BONDING
On the second floor of the factory in Sollentuna  the glue department is located, with several gluing tables and special ventilation.  With great knowledge we carefully glue together according to drawings made by our designers. It is a real craftmanship, just like the other processes performed in our other non-machine-controlled departments.
SUSTAINABILITY
For Akriform and many of our customers, it is important that the products are manufactured in a way that is sustainable from an economic, environmental and social perspective.
By having all of our production in Sweden we can control all these aspects and ensure that our customers get the best possible product every time, which is in line with our business concept, our visions and our values.
CUSTOM made PLASTIC PRODUCTs
To see examples of what we can do, visit our gallery or follow us on facebook and instagram!