27 June, 2016
Summer Vacation & Move
Closed for summer vacation
Akriform will be closed for summer vacation from July 4th to July 31st.
During this time we will move into our new factory at Bergkällavägen 38 in Sollentuna.
 We're moving!
After nearly 20 years at Kuskvägen, it is now time to move into our newly built factory. This new facility is customized for our business and will improve our production and give all employees a better working environment.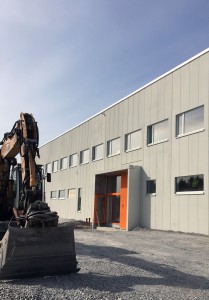 We see the move as a natural step in our development to meet our customers 'and employees' needs today and tomorrow. Our new factory, where all departments will be under the same roof again, promotes a modern and efficient business that brings us closer to our long-term goal to be the best plastic processing company in Scandinavia.
We are pleased to be able to remain in Sollentuna, in close proximity and easy access to both Stockholm city center and Sweden's major airport. With continued good location we become easily available to our customers, suppliers and talented co-workers.
The move is scheduled to go on throughout July. If everything goes as planned we will be starting production in our new factory on August 1st and wish old and new customers welcome with their orders!
Akriform wishes you a great summer and hope to hear from you again i August!