10 December, 2012
2013 ISM Expo: The Future of Sweets
See You at the 2013 ISM Expo! The 2013 ISM Expo is January 27th-30th in Cologne, Germany.
Akriform and Candy People have partnered once again for the 2013 ISM Expo. Please visit our booth to enjoy candy and learn more about the Akriform merchandising solutions- Quickbox Scoop Bin and TurnOflex Gravity Bin.
Booth: Sweden Section – Hall 4:2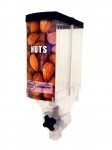 Introducing TurnOflex Gravity Bin: Be the first to see our newest bulk bin, TurnOflex Gravity Bin! This injection molded gravity bin with only 6 parts and turn dial dispensing will be displayed at the ISM Expo.